Generating results reports in the Results screen
NOTE: You can only generate results reports for a maximum of 50 candidates at a time.
In the Results screen, you can create reports containing data about candidates' results. This includes generating a summary about individual candidates, printing results slips, and viewing breakdowns of tests.
This article explains how to generate results reports from the Results screen.
1. Go to the Results screen
To generate results reports, navigate to the Results screen in Test Administration.
2. Select candidates
Select the relevant candidates in the Results grid. Use Shift to select multiple tests.
NOTE: Only Summary and Results Slip are available when candidates that have taken different tests are selected.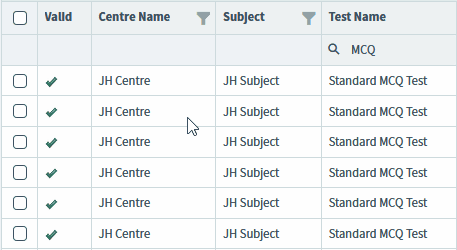 3. Generate results report
IMPORTANT: You can define which results report types are available on the Results screen in the Edit Test dialog. For more information, read 'Results Display Option' in About test settings.
Select one of the following report types to generate a PDF containing data about the candidates' results.
Candidate Report
Select Candidate Report to generate a results report for an individual candidate. This includes a results summary, results breakdown, and a results report.
TIP: You can double click on a candidate in the Results grid to open their candidate report.
Summary
Select Summary to generate an overview of the selected candidates, including their unique candidate reference numbers, the date on which they sat the test, and their result.
Candidate Breakdown
Select Candidate Breakdown to view how many items in each Learning Outcome were answered correctly by the candidate. You can view the candidate's name, unique reference number, the date on which the test was sat, and the candidate's result. For more information about Learning Outcome boundaries, read Setting up Learning Outcome boundaries.
NOTE: You can choose to display candidates' results as a percentage breakdown or as text against custom percentage boundaries for each learning outcome. For more information, read 'Candidate Score Boundary' in About test settings.
Test Breakdown
Select Test Breakdown to view how many questions were answered correctly in each test.
Results Slip
NOTE: A results slip does not contain official results.
Select Results Slip to create results slips for candidates. A results slip indicates whether candidates have passed or failed a test. You can also view details about the test, including the name of the subject that contains the test, the name and address of the centre that the test was sat at, and the candidate's results as a percentage.
Further reading
Now you know how to generate results reports from the Results screen, read the following articles to learn more: