Packaging a script in the Moderate screen
WARNING: This article refers to an area of Surpass that uses Flash, which is no longer supported by web browsers. Use the Surpass Viewer to view this area of Surpass. For more information, read Installing the Surpass Viewer.
A packaged script is a ZIP file containing all materials related to a test. You can use standalone packages to view completed tests for quality review purposes or to view candidate responses in a read-only format.
This article explains how to package a script in the Moderate screen.
1. Go to the Moderate screen
To package a script, navigate to the Moderate screen in Test Administration.
For more information about the Moderate screen, read About the Moderate screen.
2. Choose a script
IMPORTANT: To package a script in Moderate, the Allow Packaging of Candidate Responses setting in Test Details must be enabled. For more information, read About test settings.
Select the relevant script you want to package in the Moderate grid.
Select Package Test to open the Test Properties dialog. The package is automatically created in the background.

3. Download the package
When the package has been created, select Download to save the ZIP file to your device.
Launching a standalone packaged script
After you have downloaded your standalone package, you can open the script. Expand the following section for more details.
Extract all files from the ZIP file. Right-click on the ZIP file and select Extract All.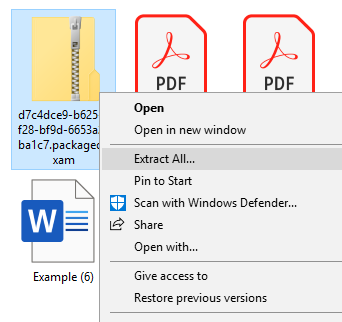 Specify where you want to save the files and select Extract.

Next, add the C: drive as a trusted source for Flash. Refer to the following table for browser-specific instructions.
If you are using Internet Explorer
If you are using Google Chrome

Open the Control Panel and select Flash Player settings.
In the Advanced tab, select Trusted Location Settings.
Select Add and type C:.
Select Confirm.

Open the Macromedia Flash Global Settings Security panel.
In the Global Security Settings panel, select Edit Locations.
Select Add Location in the drop-down and type C:.
Select Confirm.
Next, open the index file in your packaged test folder. The test opens in a new browser window.
NOTE: You may need to enable Flash to open the index file.
There are some limitations to the features supported in packaged test forms:
The only candidate feedback features supported in packaged tests are Pass/Fail and % mark feedback.
No data input (for example, item responses) is stored in local memory or communicated to the Surpass servers.
Packaged tests cannot be resumed if exited while in progress.
Further reading
Now you know how to package a script in the Moderate screen, read the following articles to learn more: