Closing and resuming a computer-based project
Candidates can log into a computer-based project at any time between its start and end dates. Candidates have the freedom to save their work and come back to it later, making computer-based projects ideal for longer term work.
This article explains how to close a computer-based project and resume it at a later date.
Closing your project
Select Close to close your computer-based project.
In the Close dialog, select Close project and finish later.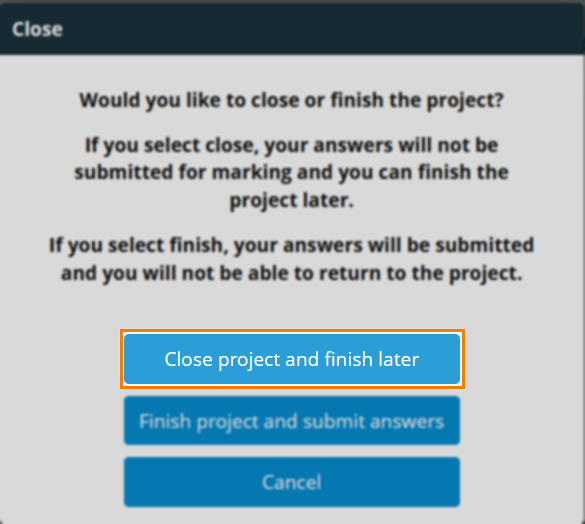 In the Confirm Close dialog, select Yes to close the project. Select No to return to the project.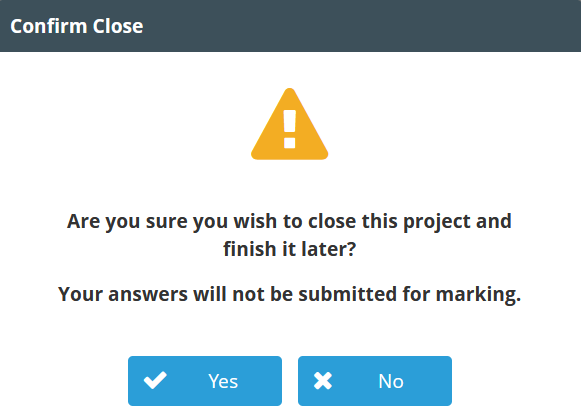 You have now closed your project.
Resuming your project
To resume your project, enter your alphanumeric keycode in the Enter Keycode dialog and select OK .
Confirming your details and agreeing to terms
Depending on the project settings, you may need to re-confirm your details and agree to terms set by your awarding organisation. To learn more, read 'Test Interface Options' in About test settings.
Select Confirm to confirm your details in the Confirm Details dialog.
In the Agree to Terms dialog, select I accept these terms and select Continue .
Further reading
For information on accessing and submitting tests and projects, read the following articles: