Uploading a mark scheme to an item
TIP: You should only upload mark schemes to items with the Human marking type. For more information, read Setting the marking type.
When creating an item, you can upload a mark scheme to help users mark candidates' responses to the item. You can upload a mark scheme in the Edit Settings dialog. The following file types are accepted as mark schemes:
This article explains how to upload a mark scheme to an item.
1. Create your mark scheme
Before opening Surpass, create your mark scheme in your word processor, spreadsheet editor, or PDF authoring software.
2. Go to your item's Edit screen
In Surpass, select an item in your subject to open it and go to the Edit screen.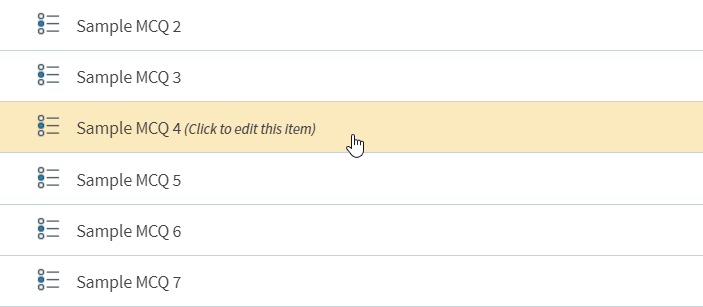 3. Open the Edit Settings dialog
Go to Edit item settings and tags and select Edit Settings to open the Edit Settings dialog.

4. Upload your mark scheme
NOTE: You can only add one mark scheme per item.
Select Upload against Mark Scheme to open your device's file explorer.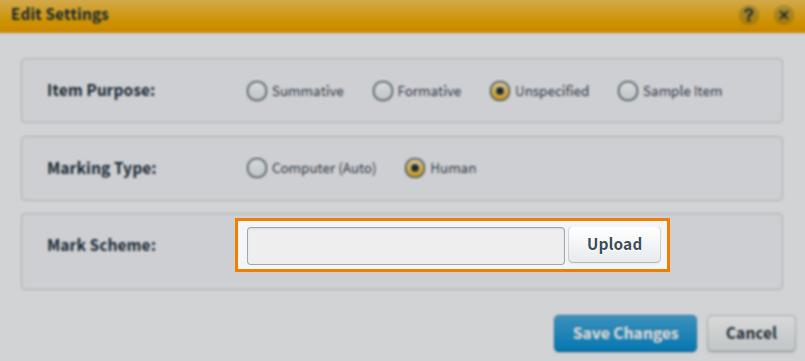 Find your mark scheme file and open it to upload it to Surpass. The file appears in the Mark Scheme file name field. You can select Upload again to choose another file or press Clear File to remove the mark scheme from your item.
After you have uploaded your mark scheme option, select Save Changes to save your item's new mark scheme.
Further reading
Read the following articles for more information on item settings: