About Regional Settings options
The Regional Settings section of Site Settings allows you to determine the default separator format for digits in Numerical Entry, Table, and Spreadsheet items. Separators can either be decimals (3.142) or commas (3,142).
This article explains how to use the Regional Settings options in Site Settings to set the default separator unit for digits in Item Authoring.
Navigating to the Regional Settings screen
To view Site Settings, select your user name to open the User menu.
Select Site Settings in the User menu.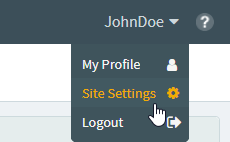 Select the Customise Columns tab to view the Customise Columns options.

About Regional Settings

Use the Separator Format menu to choose either Decimal or Comma as the default separator format for your instance of Surpass.
NOTE: The default separator can be overridden by users in Item Authoring.
Further reading
To learn more about working in Site Settings, read the following articles: